Open For Springtime On The Mountain!
Springtime on the Mountain Festival
An old adage states that if you want something done, you should ask a busy person, as they always seem to find time to help. Two of the local identities who are opening their gardens to visitors during the approaching annual Springtime On The Mountain Festival of Open Gardens, hosted once again by Tamborine Mountain Garden Club on Friday and 23rd and 24th September, certainly give weight to this theory!
Judy Roland, the very busy coordinator of local Landcare group, still finds time, with partner Tony to work in and enjoy their own garden as well as organising many volunteer Landcare activities on the Mountain. Judy and Tony's home garden, a relaxed and informal one which shares a boundary with public bushland, cleverly integrates native and exotic species. It features expansive coastal views and gives access to a public nature walk along the escarpment on SRRC controlled land.
As a special treat here from Friday 10.30 am, Tony and Judy will welcome Bella a Capella choir as they perform on the terrace overlooking the lawns towards the ocean views.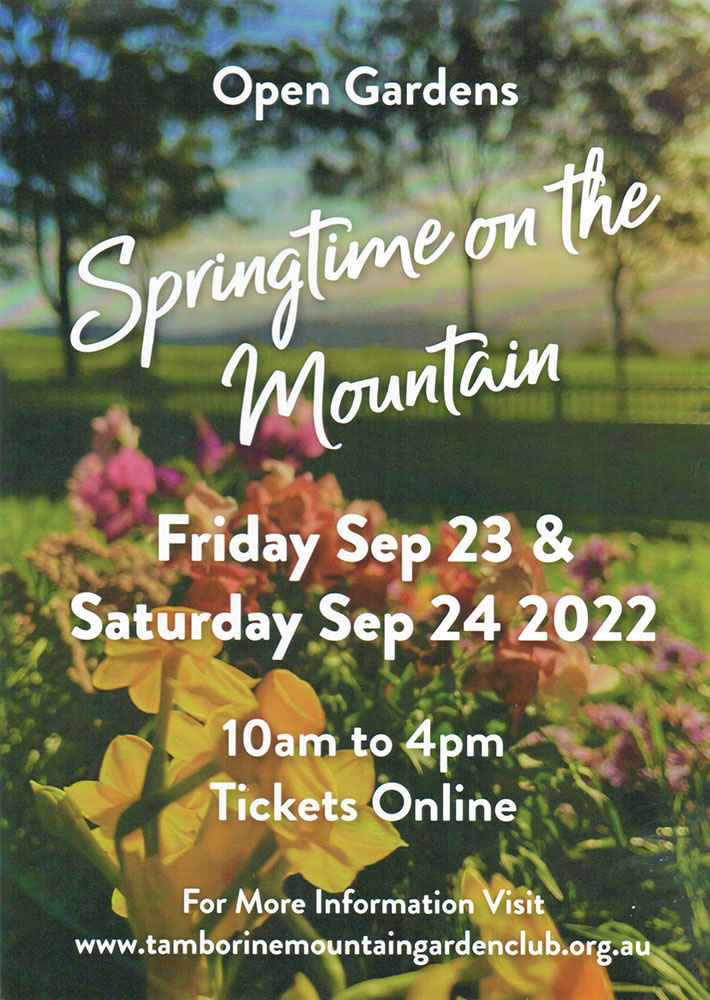 Immediately opposite, Richard and Betty Bull will showcase their garden, 'Arawee'. Richard, a semi-retired consultant entomologist , supports strategies to protect the Richmond Birdwing Butterfly in other garden locations and Landcare sites. Arawee is a carefully laid out, beautifully maintained garden, featuring clivias, azaleas, vireyas, orchids and daffodils in spring. There is a productive patch and a propagation centre for plants to support populations of the Richmond Birdwing Butterfly.
Other private gardens being opened for the Festival are at Slingsby Road, Griffiths Street, and Morton Bay Avenue. All have their own unique feel: some large, some relatively new, but all interesting and a delight to walk in – so take a moment to savour the beauty!
The Botanic Gardens in Forsythia Drive will open early, with a Sausage Sizzle and Plant Sales from 8am – 2pm both Friday and Saturday, and Children's Activities from 10am – 2pm. Tamborine Mountain Showgrounds will have light refreshments available, with public toilets and parking. Plants and Wearable Art, will be on sale at the Griffith St Garden, and at "Tregartha" in Moreton Bay Ave, where the popular Men's Shed singers "The Offcuts" will entertain on Friday and Saturday mornings, there will be children's activities and Plant Sales.
The Festival is on Friday 23 and Saturday 24 September, with the Private Gardens open from 10am – 4pm both days.
Tickets are $20 online or $5 at each gate (correct change requested).
Dependent children are free. Only certified assistance dogs are permitted.
Check details, see the brochure, and buy tickets at tamborinemountaingardenclub.org.au
Brochures will also be at the Tourist Information Centre, the Botanic Gardens, the Showgrounds, and each open garden, or follow the street signs.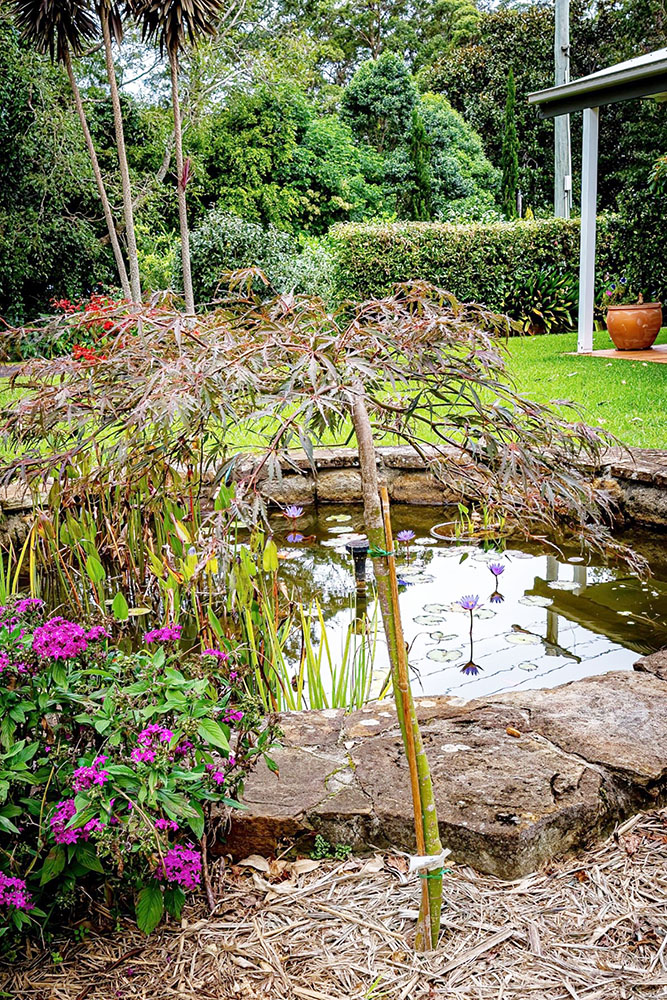 Come along and see our mountain shine!