Supporting 'Project Hope'
Logan is in desperate need of more shelters and we have taken on the mission to provide emergency accommodation that is safe, supportive, and welcoming for families escaping family violence.
We listen and respond to their individual needs, assisting families to rebuild their lives and live with confidence, free from violence. That's why we need our own shelter to help families that need accommodation, whilst getting their lives back together.
BUT … WE NEED YOUR HELP ON THIS
There are a few ways you can support PROJECT HOPE:
1. Direct Donation to the PROJECT HOPE fund
2. Host a fundraising event for PROJECT HOPE
3. Support our Defenders for Hope Charity Gala Ball on 1st July 2023
…. WAIT!! Did we just say CHARITY GALA BALL???!!!
Yes, that's right!! Defenders For Hope are hosting a CHARITY GALA BALL on the 1st of July, 2023
***** SAVE THE DATE NOW *****
There will be various Sponsorship packages available for this event, to be held at the Logan Entertainment Centre, so please let us know if you are interested and we can get the information out to you!
So … tell your workmates, tell your friends, and tell your family and please join us on this great night of fun, to raise desperately needed funds for PROJECT HOPE – DOREEN'S PLACE – COMMUNITY SHELTER FOR LOGAN.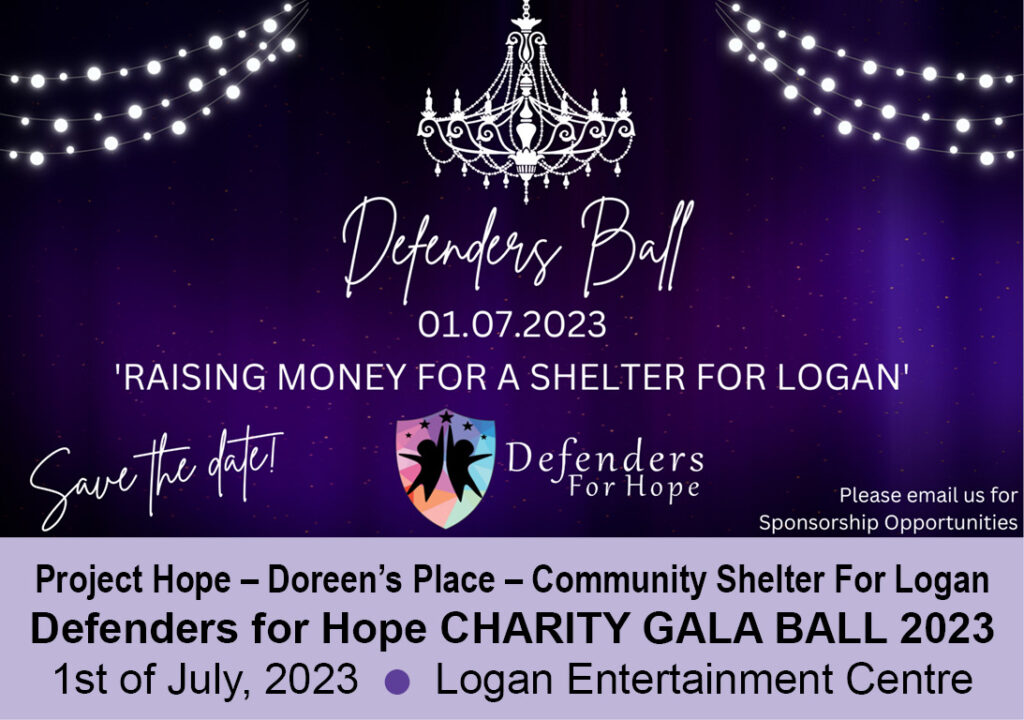 Regards
Defenders Ball Committee 2023
Tomeeka, Kathy, Elise, Karina and Committee