Ekka Month – Ekka Winds – Skin Dryness …
August has arrived and so has those "cut right through you" winds. Known in Queensland by the Ekka winds as they arrive when Brisbane proudly hosts the Exhibition known as The Ekka. That being said, it should be noted that our Australian weather indicates February and December are our windiest months. February has an average wind speed of 22.6 kph, while the calmest month is May with an average wind speed of 18.4 kph. For us, these winds come at a perfect time as we have had around 2234 mm (in Tamborine Mtn – as per B.O.M – Bureau of Meteorology) that has made all our lives so wet, damp, and completely over the rain, especially when our wet season is January – February. We look forward to our acreage drying out somewhat, so we can ditch the gummies!
The winds can be damaging to our skin & hair, especially the face and lips. Let's be honest, cracked, bleeding lips are just too painful, so before that happens, protect and repair.
Jordella Skincare has a few fantastic products in their range, user friendly and may help to alleviate windburn and broken skin, cold sores and topical skin conditions.
Bush Honey Calendula Ointment (commonly called the Magic Cream) excellent for any cuts, bruises, abrasions, any itch caused from skin rubbing or insect bites. Windburn.
Sweet Honey Remedy Lotion, an all-round great product, same as the Calendula Ointment but only in a lotion. Thinning skin, acne or eczema, body lotion to help repair and maintain strong healthy skin. Windburn.
Lip Balm, just keep applying to those cracked lips. Brilliant to pop into pocket or purse for the emergency cut, or scrap for the little ones at school. Perfect for windburn
Honey Licorice Hand Cream, apply liberally to hands and forearms to help with cracked, rough hands.
Nose Sniffer, all essential oil blend with no fillers that clears the nostrils allowing the breath to feel clean and clear. (On-line order in clearance collection is FREE with above items.)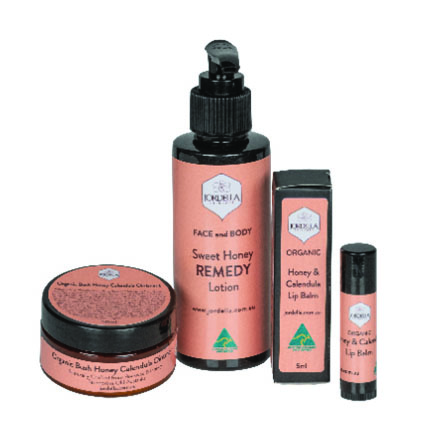 On-line order has a 'Winter Special' to help with these damaging winds – The Clearance Collection is worth a peek, and massive savings!
Please maintain your regular skincare routine of cleansing, toning and moisturising as these damaging winds will just suck the life out of your skin and you will need to replace that all important moisture and hydrate.
All your favourite skincare can be found at the Village Witch Alchemy on Tamborine Mountain Gallery Walk or in the Tamborine Village Pharmacy – keep sending in those emails to sales@jordella.com.au and please do not hesitate to contact us if you have any issues you would like to discuss. www.jordella.com.au
By Colleen Hagarty – Jordella Skincare